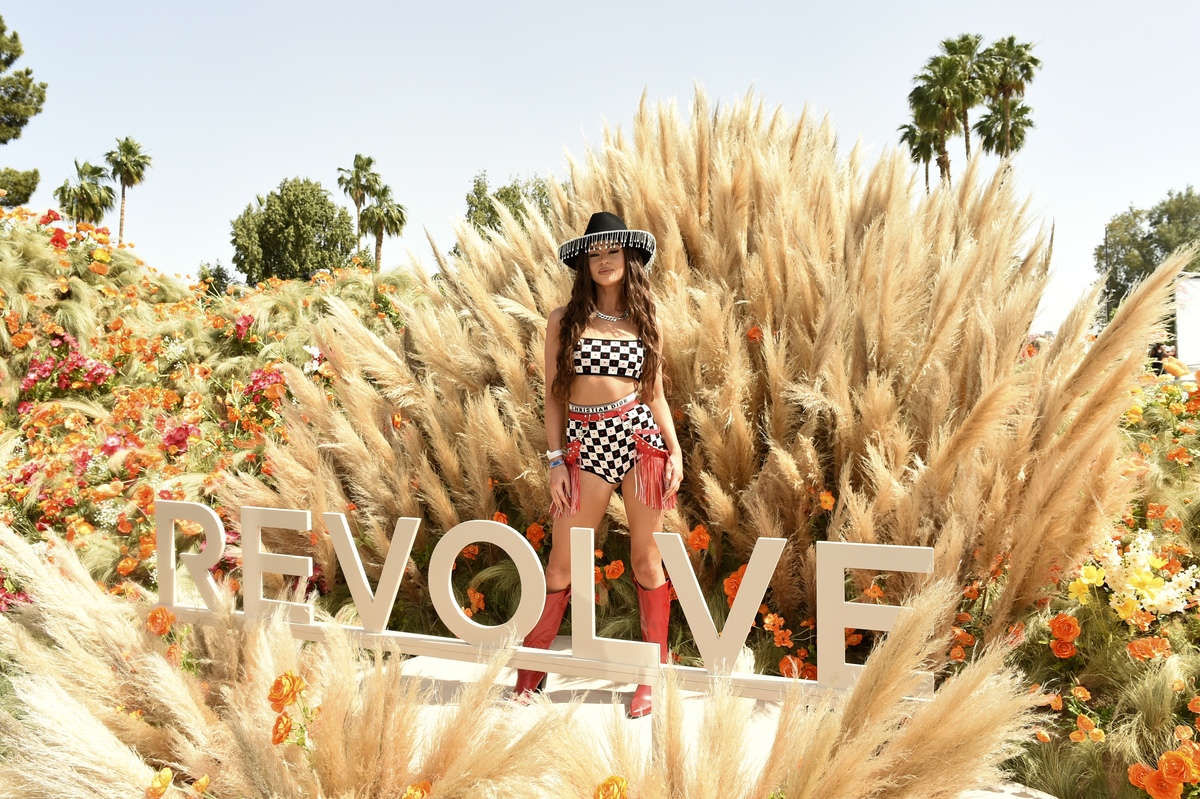 Influencers got 'stuck in the land without water' at REVOLVE festival
The first weekend of the Coachella Music Festival went off without a hitch. However, a nearby designer clothing brand's unaffiliated event sparked a storm of complaints from influencers. The REVOLVE festival is an invitation-only event featuring celebrities such as Jack Harlow, Kim Kardashian, Post Malone and Halsey. Things didn't go as planned for influencers, and it led to some people comparing the conditions to the disastrous Fyre Festival.
Influencers left 'stranded in the land without water'
REVOLVE Festival is supposed to be a VIP luxury event for celebrities and influencers. The party is not officially affiliated with Coachella. Instead, it's more like an exclusive party nearby at a different location. During the first weekend of Coachella 2022, the organizers invited many influencers to the party in the desert of La Quinta, California.
They were promised a VIP experience, including luxury transport to the REVOLVE festival on Saturday and Sunday. Unfortunately for the invited influencers, they had to spend hours in the hot sun queuing for shuttles to the festival. After waiting for five hours, some didn't even arrive at the party.
LA Magazine writer Joseph Kapsch broke the story on Twitter on Saturday, "influencers stranded in the waterless land, under the scorching sun for HOURS, waiting for buses that don't come to take them to the real festival." He added that stranded influencers were starting to panic over the heat and lack of water with "alleged fights, shouting and everyone feeling dizzy".
TikTok influencer describes Revolve Festival "I felt like cattle and I was on a content farm"
The Daily Mail has reported that TikTok influencer Maddie White no longer supports the company and will never work for them again. She was paid $2,000 and given a REVOLVE credit for attending the party, but her experience led her to tell her 2.4 million followers that she was done working with the clothing brand.
"After about two and a half hours of waiting in the scorching sun – it was 90 degrees and no water, two staff members for the whole thing – I finally made it into the festival."
Unfortunately, once inside, White and the other influencers didn't have a chance to calm down. "There was no shade either. Maybe very small areas where people could sit. All the real shaded areas were reserved for real VIPs, like Timothée Chalamet.
"The best way to describe it is that I felt like cattle and was on a content farm."
Another TikTok influencer shared that she didn't even enter the event after waiting for five hours in the scorching sun. Kristi Howard said: "Waiting 5 hours in line as we were told got us nowhere thanks to excellent security and organized transport."
"Now I love REVOLVE, everything I wear is REVOLVE, but the REVOLVE festival was a *** show, it was a disaster."
REVOLVE says access to the shuttle was restricted "to maintain compliance with safety requirements"
REVOLVE responded to online complaints in a statement to E! "In anticipation of the high level of interest in attending the REVOLVE Festival this year, REVOLVE has worked closely with all appropriate municipal and security authorities to ensure a safe and secure path for guests to access the 2-day invite-only event.
"With an event of this magnitude, city regulations mandate an offsite location for guest check-in and parking, as well as licensed shuttle transportation to and from the venue. The offsite lot has been landscaped with guest parking, plus access to carpool drop-off and pickup with additional WIFI for car reservation, restrooms, shade, water, doctors and security.
"As the festival reached capacity on Saturday afternoon," the statement continued, "shuttle access to the site was restricted in order to maintain compliance with safety requirements, resulting in wait times longer for entry and prevented some guests from attending the festival.The safety of our customers is of the utmost importance to us and we will always make this a priority.
RELATED: Jack Harlow's Goals For 2022: 'I Want To Be…The Face Of My Generation'