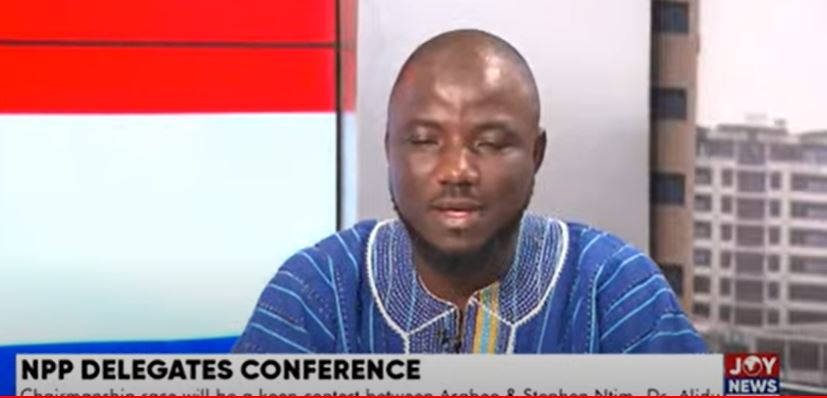 Let's try to separate the money from the politics – Dr Seidu Alidu on Asabee's comment on T&T
Lecturer in the Department of Political Science at the University of Ghana, Dr. Seidu Mahama Alidu urged political parties to refrain from using money to influence the outcome of political elections.
In an interview with JoyNews' Emefa Apawu on Saturday, he said voter bribery would likely cause people to vote for the highest bidder.
"At this particular point we should try to separate the money from our politics. If we're not careful and people know that delegates will always vote for the highest bidder and candidates know that if I'm able to spend more than my other candidates, I will win regardless of competence, credibility, seniority, patriotism, so we are selling our democracies," he said.
It comes after a candidate for National Chairman of the New Patriotic Party, Stephen Asamoah Boateng (Asabee) alleged that his opponents were bribing delegates.
Mr. Asamoah Boateng said this during the party's National Delegates Conference which is being held at the Accra Sports Stadium on Saturday. The conference is placed under the theme "staying together, working together".
According to Mr. Asamoah Boateng, he knows those who engage in illegality but will not name names.
"I know them, they know each other too so I won't name names," he said.
Asabee revealed that he had given money to delegates to cover their travel and transportation (T&T) costs.
"I only gave them T&T three times – 150, 150 and 100," he said.
However, Dr Seidu Alidu pointed out that it is the responsibility of the party to transport and accommodate the delegates, not the aspirants, "the party has the responsibility to mobilize and organize the delegates, to transport them from 'wherever they are to a conference venue, feed them, house them. Whether it's transportation, food, or water, we all know the constitutionally mandated institution that's supposed to do that, so if someone else is doing it, that means you also have an invested interest.