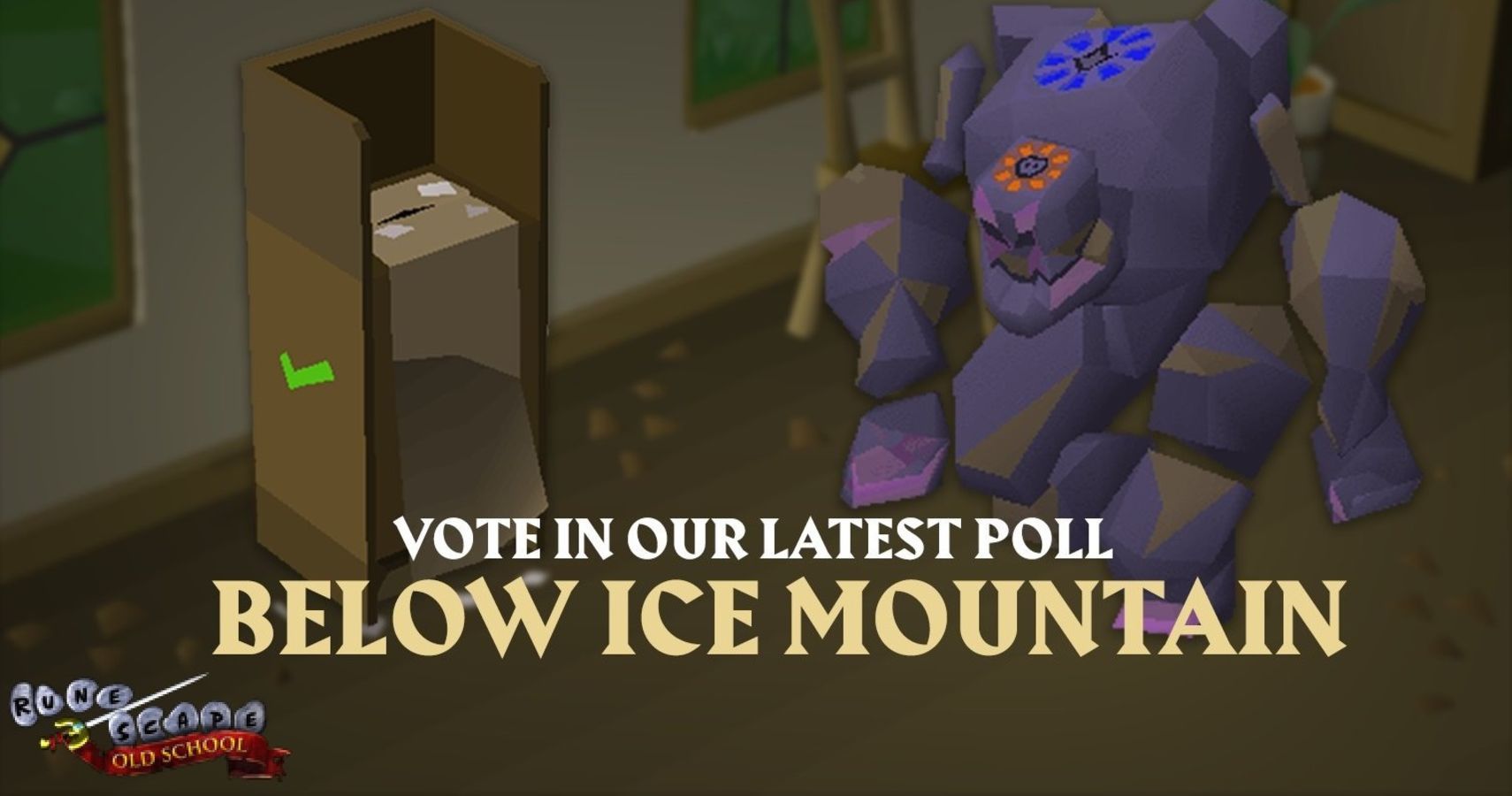 Old School RuneScape May Add New Free Quest
Below Ice Mountain is a suggested quest for Old School RuneScape and includes a new dungeon.
The latest Old School RuneScape poll is now live and – if all goes well – the game may receive a new free quest. Under the mountain of ice is a Novice Quest that brings a new dungeon, but it won't be added to OSRS unless the community votes for it.
In total, the current OSRS poll asks eight questions about new content. Most important is the first one, which asks if Below Ice Mountain should be added to the game. Those following are just trying to determine what content is most interesting to the community.
RELATED: Monkeys Take Control of Lumbridge for Old School RuneScape Eighth Anniversary Celebration
Under the Ice Mountain, players would uncover ancient secrets that lie beneath the Ice Mountain. Completing the quest would grant you access to Ice Mountain Dungeon – a new F2P dungeon "filled with combat opportunities, skill activities, and many lovely stories." Jagex has stated that anyone who enjoyed Forthos Dungeon will love what he does with Ice Mountain Dungeon.
If the content passes the community poll, the quest and dungeon will hopefully be released in April.
"Willow, an energetic (perhaps suspiciously) archaeologist is on the hunt for her next big find," the Below Ice Mountain description reads. "She thinks she has found the entrance to the ancient underground ruins found west of Ice Mountain. There is a catch though: the entrance is tightly sealed and she must reunite her former crew to help her out. break in. Of course, she has to. stay close to the ruins in order to claim the find, so it behooves you to gather her group of rags for one last caper and one last big reward. "
She will work with three other characters – Burntof, Checkal and Marley – although her true intentions to explore the mountain remain a mystery.
Full details of the quest and the new area can be found on the old school official blog. It also contains a few additional modifications proposed for the Bolt Pouch, aimed specifically at making it more user-friendly.
Old School RuneScape is currently available on PC, iOS, and Android. The nostalgic game will also arrive on Steam on February 24.
NEXT: Valheim Sells Amazing Three Million Copies In Less Than Three Weeks
xQc reveals police thought he was addicted to methamphetamine when run over
xQC opened up about a recent crash incident, revealing police mistakenly believed he was addicted to methamphetamine.
Read more
About the Author