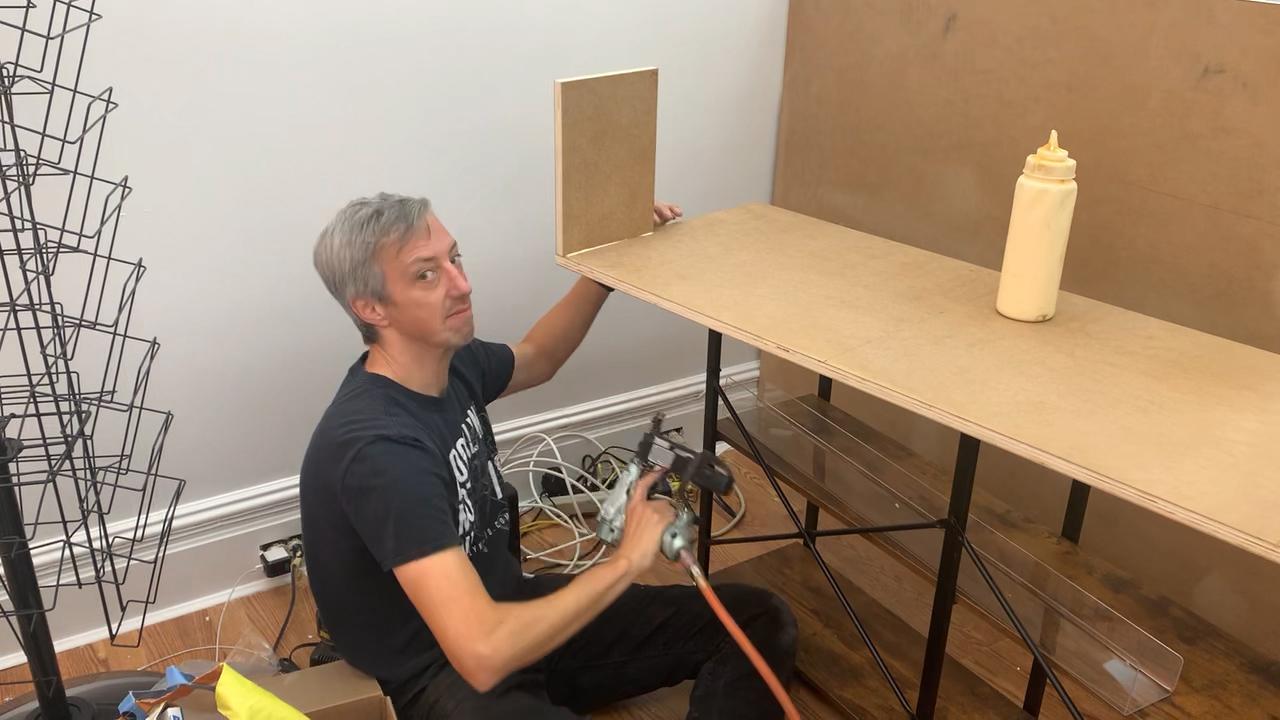 The opening day bet (no more bets)
By Jason Mojica
If you stopped by the storefront of 157 Huron Street in Brooklyn's Greenpoint neighborhood on September 30 of last year, you'd be forgiven for not believing it was going to open as Hey Kids Comics! the next day.
There were empty shelves on the walls, a pile of wood on the floor and my friend Chris with his arm in a sling trying to explain to me how to use a pneumatic nail gun for the first time in my life. In fact, not all the shelves were empty: a small area towards the front was filled with books for the first readers, and those were the ones the locksmith who had just finished working on the front door was looking at. I put the nail gun down and looked at the locksmith bill – all those little things were really starting to add up. I was burning cash so I couldn't really afford not to open in time. I gave him my credit card, he gave me a receipt, then took out $25 in cash. "If my math is right, that should cover those three," he said, after picking up a Spider-Man My First Mighty Marvel Book, as well as some little golden Spider-Man books. He explained that he had recently knocked over his neighbor's tricycle, that he wanted to catch up, and that he knew the kid liked Spider-Man. I wondered why he hadn't just bought her a new trike, but hey, I wasn't going to risk losing my store's very first sale!
New York locksmith seeks redemption from child he wronged wasn't a type of customer that I considered when I envisioned the store, but it shows you how hard it is to make generalizations about who your customers will be and what they'll want to buy before to meet them. Unfortunately, you have to make a whole bunch of bets on what you're going to put on your shelves long before they hit your store.
And so you try to make educated guesses based on the information you have about the type of clientele you want to attract – who do you hope to dazzle? Everyone? C'mon…I mean sure, I wish I could sell comics to every single person walking down my street, and if you challenged me to find a suitable comic or graphic novel for each of them, I could probably do it . But this is the real world, and there are constraints! As I mentioned last time, our two main constraints were size and budget, so taking a "general store" type approach wasn't going to work. Instead, we decided to specialize in being an "all-ages" shop: offering a tight selection of books for kids and YA readers, but also awesome stuff that could be read by young people but probably wouldn't be (think Krazy Kat).
Back at the store on the eve of our opening day, we were able to successfully and pneumatically nail a bunch of boards together into something resembling a retail counter and I was finally able to start stocking the shelves with the literal ton of books I had hoarded in my family's apartment.
Each book I chose for the store's opening inventory was essentially a small bet. It's a bit like placing chips on a roulette table while the ball is already in motion. You know that with every passing moment, the ball's orbit is deteriorating and you're running out of time to refine or guess. Suddenly the dealer shouts "no more bets" and all you can do is hold your breath and see how it all goes.
So how did it all shake out?
Considering that most of the opening weekend customers were familiar faces – friends, family and people we had met selling on the sidewalks of Greenpoint over the previous year – I was not not sure what to infer from those early days, but my first takeaways were that a) Dog Man the books are selling as well as expected, b) the Little Golden Books have sold faster than I ever imagined, c) people still like to see Jeff Smith's BONE on the shelves, and d) there is something about the format of floppy disk comics that makes them invisible to young people, regardless of the content.
On that last point, I had seriously debated whether we would even publish periodic comics. Compared to children's graphic novels priced at $10-13 for around 200 pages of story, spending $4 for 20 pages seems like a bargain. Plus, I was opening just when getting comics from the three major publishers required dealing with three different distributors, two of them – Diamond & Lunar – with minimums I wasn't sure I could meet. But was I really going to open a comic book store that didn't really sell comics — the kind of reading I grew up with? No, I was not. So I bit the bullet and decided to store a classic rack's worth of floppy disks. In our first month we sold four? Five?
But back to the blows. Opening weekend trends turned out to be normal, but sales became a little less concentrated over time. We opened with about 300 titles, and in our first quarter there were only a handful of titles that didn't sell at least one copy. But the majority of our sales came from just 50 books/book series. In a few of these cases, the high sales were related to author events (marked with an asterisk), but I also found that these books had their own momentum and continued to sell long after the event. .
The 50 titles/series that generated more than 50% of our sales in the first quarter:
Dog Man
Spider-Ham: Great Power, No Liability*
Manu*
Megaghost*
Cat Kid Comic Club
Scales and scoundrels*
The Amazing Cynicalman (mini-comics)
Shonen Jump (vintage copies in English from 2003 to 2007)
Minecraft
Barb: The Last Berzerker
Peter Porker: The Spectacular Spider-Ham (Little Guestbook)
Mad magazine (vintage)
Whole peanuts
Pokémon Horizon: Sun and Moon
How to Draw Comics the Marvel Way
Amazing Spider-Man (Little Guest Book)
Black Panther (little guest book)
spongebob comics
Paper Girls V1
Jonna and the Impossible Monsters
Batman and Robin and Howard
BONE
my hero academia
Cleopatra in space
Djeliya
Stig & Tilde Young Shadow
Miles Morales: Spider-Man (The Little Golden Book)
Pokemon – How To Draw Deluxe Edition
Pokémon – Super Deluxe Essential Manual
owly
Animal Crossing: New Horizons
wings of fire
king of sharks
Fly
A Sand Story by Jim Henson
Iron Man Invincible (Little Guestbook)
Superman (Little Golden Book)
The Teen Titans Go! – Ride with
Ms. Marvel: thin and stretched
Kirby Manga Mania
jack and the box
I survived
hilda
Helsing Ham
factory summers
Spidey and his amazing friends (little guest book)
banana fox
black hammer
Amulet
The surprises on this list for me were Little Golden Books (and that it was heavily focused on Marvel characters), How to Draw Comics the Marvel Way (kids and adults alike really react to this classic cover), My Hero Academia (I didn't grow up reading manga, so I was taken aback by the number of teenagers and adults who came looking for this in particular and manga in general – despite the fact that I've often heard about it on the More to Come podcast), The Teen Titans are going! (this and other manga-sized children's books in the DC Graphic Novels series work well even if other DC stuff doesn't) I survived (many more kids than this I expected were keen to read about 9/11, Nazi invasions and shark attacks).
You know what else does well? Everything a child's parents don't seem to want them to have. These are my favorite interactions to watch, as they tend to come from a child having a visceral response to the art of a book – it happens in a flash. Something grabs hold of them and they want to spend more time with it, despite the fact that it might be above their reading level, or contain material that their parents know will keep them up at night. late at night. The parents naturally resist and the child's desire increases exponentially.
The flip side, of course, is that anything a parent actively encourages a child to check out is often dismissed out of hand, and that brings up the subject of which of my so carefully curated selections failed to find a resonate with the masses. I don't want to complex the talented people involved in these great books, so I'll talk about them a bit more generally, but there is an observable trend:
• Award-winning children's books that address big, important issues: it's not that they're not good, it's just that when a child has a choice of one or two books, they won't be retained.
• Fantasy a bit cute: Fantasy is our largest category in the store, in terms of quantity. There is so much in this category that slightly cute fantasy LARPs face a lot of competition from other rather cute fantasy LARPs.
•Manga without credibility: There are many great manga series out there, and I tried to make available recently launched series that have catchy titles and great premise, but no dice. If it's not one of the ten most famous manga titles, it just doesn't budge.
• Superheroes: This is something I noticed from our early days in street vending: young people just aren't attracted to superheroes. It doesn't matter if it's Marvel, DC or whatever. There are of course exceptions, but I feel like they are the result of a parent who is a fan pushing their kids towards their own childhood favorites. A notable exception to this is Spider-Man. As if he's part of our collective unconscious, Spider-Man seems to punch through, but the excitement doesn't seem to trickle down to other characters in the Marvel Universe.
•Stuff I bought because I thought it was awesome: A $200 book of Krazy Kat Sundays is pretty awesome, but the person who might buy it hasn't walked through the door yet. I had fun tracking down Dav Pilkey's first out of print book, World War Won, but couldn't find anyone to shell out more than a hundred bucks for it.
And you know what? It is very good. I want the store to have character, not be an algorithm. This means that certain books are there on principle, because I believe in them. Let's remember that we're literally talking about art here – and some works of art just aren't going to resonate with the masses. But every once in a while someone walks in and you see them gravitating towards that book you've been wishing it would grab attention, and that's one of the best feelings in the world.
Some bets you just have to let go.
Related