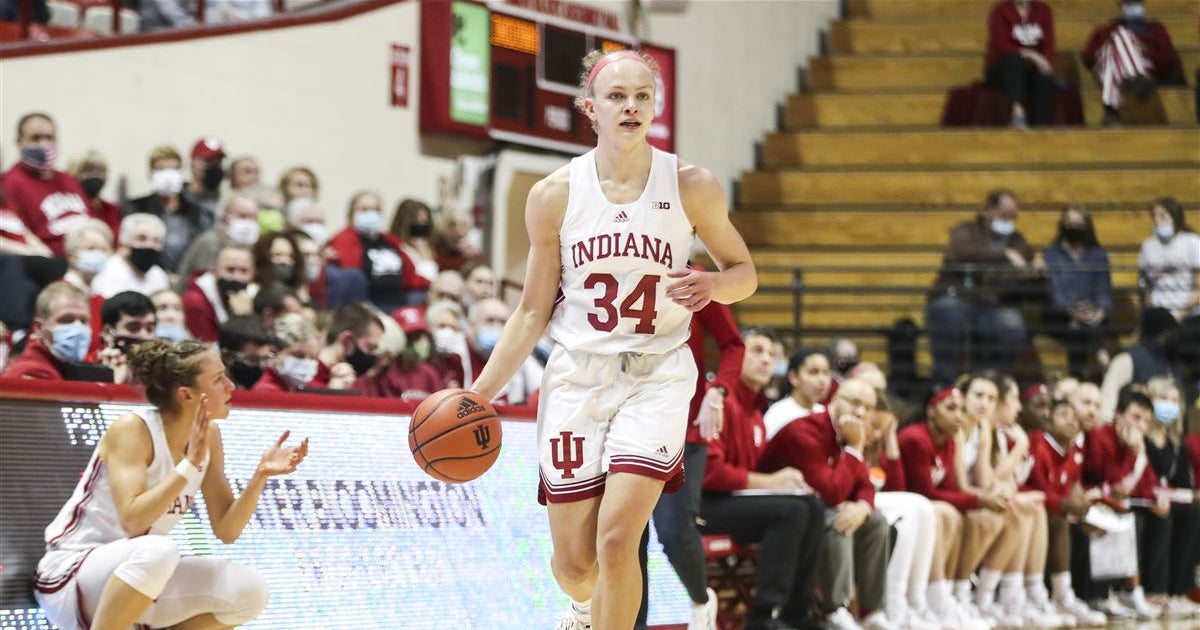 'They don't blink:' Berger and Gulbe lead No. 6 IU women shorthanded over Purdue in overtime
Ali Patberg wrapped her arms around teammates Kiandra Browne and Aleksa Gulbe as she cautiously limped to the free-throw line. Her mind demanded that she stay in the game and fight until the last buzzer, but her body – and her twisted ankle – had other ideas. After 42 minutes of scratching and clawing to help keep the No. 6 Indiana Big Ten's undefeated record intact (14-2, 6-0), Patberg's day was over.
Emotion was on the face of the seventh-year point guard as she hobbled to the sideline.
Anger came first, Patberg pleaded her case to head coach Teri Moren to return to the overtime contest. Then came the frustration as Patberg paced in front of the Indiana bench with his head down, his eyes fixed on the right foot that just wouldn't allow him to continue. Finally, the tears – both from a player who wanted nothing more than to finish the job on the field and from a teammate relieved to see the final scoreboard reading: Indiana 73, Purdue 68.
In a nutshell, Patberg thought she was letting Indiana down. But the Hoosiers were determined not to let their own captain down. At least not in West Lafayette of all places.
"Their character says a lot about how they were raised," Moren said after Indiana's overtime win. "When adversity hits, they don't get frustrated, they don't feel sorry for themselves."
Sunday afternoon at Mackey Arena, adversity hit the Hoosiers unlike anything they had experienced in recent seasons. All-American center and IU leading scorer, Mackenzie Holmes – Out. Starting veteran guard and arguably IU's best perimeter defender, Nicole Cardaño-Hillary – Out. Patberg – Out for the remaining three minutes.
Three starters and 14 years of combined college basketball experience – Out when Indiana needed it most. But rather than sulk about their own woes, the Hoosiers seized the opportunity.
After trailing up to eight points with just a tick in three minutes remaining in regulation time, Indiana came back strong. Finished off by Patberg's clutch three-pointer with 19 seconds left, IU mounted a 13-5 run to tie the game at 60-60 and force overtime.
"Give our kids credit for their focus, they've been relentless," Moren said. "As I always tell them, as long as there is time on the clock, we still have a chance to win the game."
That belief apparently manifested itself in the overtime period, in which Indiana, with three starters and a depleted bench, had no choice but to assemble a lineup of Berger, Gulbe, Browne, Chloe Moore -McNeil and Grace Wagoner in waning times. Even freshman guard Kaitlin Peterson, who prior to Sunday had logged a grand total of 55 minutes of college experience, found herself spurred into action with 36 seconds remaining and IU clinging to a seven-point advantage. points.
With IU's perfect conference record poised to crumble, Moren introduced a never-before-seen roster and tasked them with closing out the comeback victory. In Gulbe's mind, letting off the gas was never an option, no matter who was next to her on the pitch.
"Everyone had to step up," Gulbe said, "and as a team, we all rose to that challenge."
And Gulbe is right, despite what the final box score might show, Indiana probably won't even reach overtime without contributions from the seven players who saw playing time.
For veteran leaders – Patberg, Berger and Gulbe – they knew what needed to be done to make up for the backlog of Holmes and Cardaño-Hillary absences. Berger scored a season-high 23 points, including 16 points in the second half and overtime. Gulbe, for the second straight game, anchored the frontcourt with 21 points on an effective 8-of-11 shot from the floor and a 3-of-4 clip from beyond the arc. Patberg, after starting the game shooting just 2 of 14 from the field, sank a pair of key three-pointers late in the fourth quarter – to cut IU's deficit to one point – and early in overtime – for put IU ahead by six points.
But it wasn't just IU's three-headed monster that gave him the edge. Instead, Moore-McNeil, making his first career start, scored 10 points and grabbed six rebounds in a career-high 43 minutes. Browne, starting for only the second time in his career, had eight points in 30 minutes. Waggoner, who returned from a brief injury layoff, threw a Purdue pass with 17 seconds left to effectively close IU's deficit in the fourth quarter and help force overtime.
Pressure for the actors of the Hoosiers? No chance.
"As for more pressure, we really have faith in these youngsters coming off the bench," Berger said.
It's likely 'those kids' will have to stay ready for the Hoosiers going forward, as it remains to be seen how long Indiana could be without Holmes. Cardaño-Hillary and, potentially, Patberg in the near future.
But if Sunday's Barn Burner rivalry game was any indication, Indiana won't succumb to adversity so easily. And for the rest of the conference and the nation, it will take a lot more to put a stop to IU's nine-game winning streak, 12-game road winning streak and 15-game winning streak. of the Big Ten.
"They don't blink," Moren said. "They keep their heads down and they try to execute to the best of their abilities."